Bagan Art Tour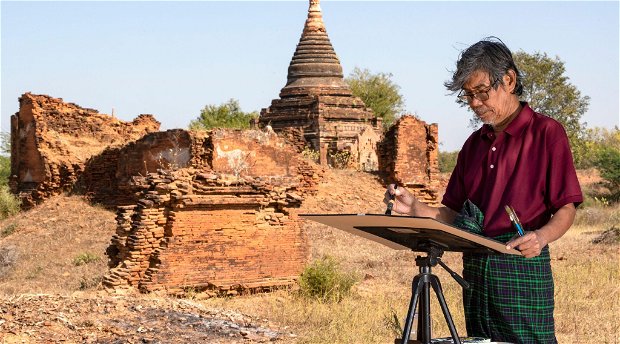 Outdoor drawing and a look into the local art scene in Myanmar's historic wonder.
Gallery
Itinerary
Day 1: Yangon - Bagan
Bagan Sightseeing

●     Sightseeing and Outdoor Drawing
After your breakfast, you will be leaving for Bagan by morning flight that takes about one and a half hour and will be starting your tour of the life in the "Land of Pagodas", or "the Wonder of Myanmar".
Upon your arrival and before check in to hotel, you will be exploring some ancient pagoda and enjoy studying local arts and crafts.
Since the sustainability is our paramount commitment, your lunch will be served at "Sanon Training Restaurant". Sanon is a Social Enterprise - a not for profit business with exquisite local cuisines, a winner of certificate of excellence 2019 by Trip Advisor.
In the evening, you will start your memorable outdoor drawing in the middle of thousand years old pagodas of ancient Bagan. It will be just an appetizer for your drawings for the rest of your tour. Our Art Tour program is designed to contribute to the community development of Art industry in Myanmar by acquiring international exposure and generating income to the stakeholders of the industry. Our ideal concept of outdoor drawings for you together with local artists is to widen your social network in art community, to explore the style, skill and perception of myanmar artists, to do friendly discussions and to exchange ideas and concepts.
Afterwards, it is time to dine and wine at "Nanda Restaurant", a restaurant where you can enjoy watching unique performances of Myanmar marionette.
You can discover authentic Myanmar foods and snacks and enjoy the vibrant nightlife of Bagan with Asian and Western restaurants, bar bistros, art galleries and arts & crafts shops during your own leisure time after dinner.
Day 2: Bagan
Sand Painting

●     Sightseeing and Outdoor Drawing 
After your breakfast, you will be catching up the beauty of  Bagan under the rays of morning sun by your artwork together with local artists.
After lunch, you will again be exploring more of Bagan, the capital city of First Myanmar Dynasty, witness the amazing architectural skill of ancient Myanmar people at thousand year old temples and their long-lasting murals on the walls. Among the others, Bagan Archeological Museum will be a destination for you to find out the history of first Myanmar Kingdom and to well understand the birth and existence of Myanmar Art.
During your visit, you will be introduced to a new creation of Art by local artists which is called "Sand Painting". Sand Painting is one of the attractions of Bagan as it is uniquely developed by the native artists and you will be exploring the artistic paintings made up of sand.
You will enjoy your outdoor drawing again in Bagan in the evening at Nan Myint Tower. Create the paintings of panoramic Bagan seen from high tower under the evening sun.
Your program today will end after enjoying dinner at Sharky's Restaurant, a restaurant that supports sustainability by producing organic, artisan and local food following its motto "Reuse, Recycle and Go Green".
Day 3: Bagan
Creating Myanmar Lacquer Ware

●     Outdoor Drawing and Study Tour on Myanmar Lacquer ware
Under the beautiful morning sun, enjoy outdoor drawing again together with native artists, capturing the beauty of ancient pagodas by your artwork.
In the afternoon, you will be moving on for a study tour to discover Lacquer ware Productions. Various Lacquer ware shops and workshops are at your disposal to explore and you will be discovering a number of steps of producing Myanmar authentic lacquer ware. For your life time memory, you are going to be creating one by yourself, assisted by the native craftsmen, to be a souvenir for you when you return home.
●     Departure for Yangon
Day 4: Departure
Yangon Depature
●     Free and easy and departure