Sustainability
"We try our best to provide our tourists the best service while respecting our heritage, culture and natural environment"
Wazo Travels is committed with the tourist by offering travel experiences where the tourist would enjoy of the history, culture and nature of Myanmar. We provide an excellent service with the highest quality and security standards while preserving nature and heritage, contributing to the visited communities' development, improving the quality of life of our employees, understand and respect the needs of our stakeholders.
Amsterdam, November 29, 2019. The Travelife Partner award was received today by WAZO Travels Ltd.
The award is a recognition for the long-term efforts and frontrunner
position of WAZO Travel Ltd. regarding sustainability and Corporate Social Responsibility.
WAZO Travels Ltd. complies with more than 100 criteria, related to an operators' office
management, product range, international business partners and customer information. The
Travelife standard is covering the ISO 26000 Corporate Social Responsibility themes, including
environment, biodiversity, human rights and labour relations; and is formally recognised as in full
compliance with the UN supported Global Sustainable Tourism Criteria.
WAZO Travels Ltd. is the 30 th company in Myanmar to have reached the Travelife Partner award.
If you have any questions or feedbacks about our sustainability practices, you can contact to our coordinator Ms.Nway Nway Wazo ([email protected]).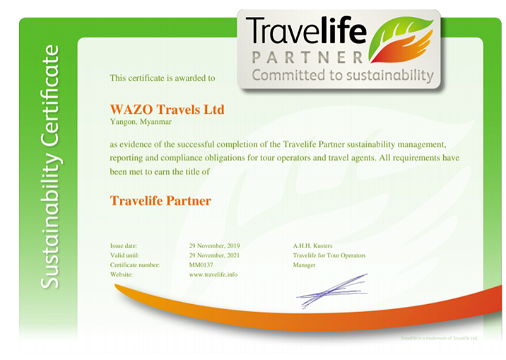 Policies
Sustainable Accommodation Policy
This Sustainable Accommodation Policy is part of our Sustainable Policy and we are committed to ensuring accommodation suppliers are made aware of our key sustainability goals and objectives. We will always offer multiple accommodation options, prioritizing suppliers who follow sustainable practices throughout all aspects of their operation. Preference is also given to accommodation providers that work with international sustainability certification schemes.
Customer Privacy Policy
We, Wazo Travels Ltd, concern about your privacy!
Your mail address or any other information you have given us will be only used for relating to your holiday tour.
We don't rent, trade or sell your personal information you provided to any third parties.
If you inquire us about the itinerary, the information or a booking, we will assume that we have your consent about your personal info that we require to design and manage your tours.
With the exception of the breaches of Myanmar and/or international law and immigration regulations and information necessary for sub-contractors to fulfill their responsibilities, anything that you provided/informed us will never disclosed or made available to any third parties without your permission.
After your tour, we might contact you to as for your feedbacks about your experience of travelling with Wazo Travels Ltd. Apart from seeking information to improve the quality of our services, we will ask your permission to quote a sentence or two for our website in a way that ensures your anonymity. The decision to assist us in this way is entirely yours. Our request doesn't place you under any obligation.
Should any changes to this policy, they will be posted on this page.
Customer Complaint Policy
As a responsible travel agent we seek to maintain and enhance our reputation of providing you with high quality products and services.
We are committed to being responsive to the needs and concerns of our customers or potential customers and to resolving your complaint as quickly as possible.
This policy has been designed to provide guidance to both our customers and staff on the manner in which we receive and manage your complaint. We are committed to being consistent, fair and impartial when handling your complaint.
Child Safe Tourism
Be a child safe traveller!!!
Children working and living in tourist areas are especially vulnerable to physical, emotional and sexual abuse. When you travel we encourage you to take the following actions that have been put forward by World Vision in order to help create a safer tourism environment for children.
The Supplier allows or tolerates no child prostitution at the premises and facilities of subcontracted accommodations. Any suspicious behaviour from guests, employees, staff from suppliers of the Supplier or any other person on the Suppliers premises or during excursions must be report to the local authorities by the Supplier. Wazo Travels will end the contractual agreement prematurely if the Supplier does not take adequate measures to prevent sexual exploitation of children within the direct supply chain (e.g. accommodations and excursions).
Dos and Don'ts Myanmar
1) The Myanmar people are friendly, helpful and polite
2) Respect the Myanmar people and their unique traditions
3) Don't take any photos that may make people feel embarassed
4) Do smile
5) Don't point with your foot
6) Wear decent clothes when visiting religious sites
7) Do tuck away your feet
8) Don't touch anyone on the head
9) Please learn the basic words of Myanmar Language
10) Women travelers are very safe in Myanmar
11) Don't kiss in Public
12) Don't disturb people praying or meditating 
13) Calling with your fingers mean calling for a challenge 
14) Please learn local customs before visiting ethinc minority villages
15) Do try Myanmar traditional transport facilities
16) Visitors should be understanding when experiencing electricity outages
17) Don't touch the robe of a monk
18) Spread your wealth, use your money wisely
19) Myanmar is a cultural destination
20) Myanmar currency should be exchanged at official exchange counters and banks
21) If the tourists wish to help the people of Myanmar, they should consider creative ways to contribute to communities, not to individual
22) Giving money or sweets to the children is not adviseble
23) Myanmar people are delighted when tourists participate in their festivals
24) Using drugs is illegal in Myanmar
25) Help protect Myanmar wildlife by refusing to pruchase wildlife products
26) To maintain Myanmar's heritage, do not buy antiques. Buy arts and crafts instead
27) Help us keep Myanmar clean
28) Practice safe sex
29) Do not go where you  are advised not to go
30) Relax and enjoy your holiday!
Read More
What not to buy in Myanmar
Gems and jewelry purchased from authorized dealers (with vouchers) are allowed to be taken out. But antiques are not allowed to be taken out of the country.
The following items are illegal to take out of the country:
Prehistoric implements and artifacts
Fossils
Old coins
Inscribed stone
Historical documents
goods that may be manufactured through child labour and local laws
endangered / fragile species (flora and fauna)
http://www.iucnredlist.org
http://ec.europa.eu/environment/cites/info_souvenirs_en.htm
https://cites.org
Activities/Entertainments/Wildlife Protection
Excursions and attractions in which captive wildlife is held are not offered, except for properly regulated activities in compliance with local, national and international law. Excursions which include interactions with wildlife comply with relevant codes of conduct. Any disturbance of natural ecosystems is minimized. Where available preference is given to excursions that operate on the basis of acknowledged and controlled sustainability standards. Our company offers no activities which harm humans, animals, flora & fauna or waste natural resources such as water, energy, soil etc. or which are socially/culturally unacceptable such as elephant rides.
Wildlife species are not harvested, consumed, displayed, sold, or traded, except as part of a regulated activity that ensures that their utilisation is sustainable and in compliance with local, national and international law.